Op vrijdag 7 november gaat BouT in samenwerking met BAM naar het centraal station van Arnhem. Daar zullen wij het unieke project van UN Studio bezoeken; een ontwerp met een ambachtelijk dubbel gekromde dakconstructie. We vertrekken om 11 uur vanaf Station Delft en zullen ongeveer rond 17.00 klaar zijn.
Er zal een rondleiding en bouwplaats bezoek zijn. De precieze inhoud wordt later bekend gemaakt; voor het bezoek aan de bouwplaats moet men zelf veiligheidsschoenen, hesje en een helm meenemen.
Project beschrijving:
Onder de noemer Arnhem Centraal worden station Arnhem en haar directe omgeving tot 2015 vernieuwd. Het project is een van de grootste naoorlogse ontwikkelingen in de stad. Er wordt 160.000m² gebouwd op 40.000m² grondoppervlakte, een knap staaltje meervoudig bodemgebruik. De totale investering bedraagt zo'n 625 miljoen euro en wordt opgebracht door de gemeente Arnhem, NS, het ministerie van Infrastructuur en Milieu, de provincie Gelderland en de stadsregio Arnhem-Nijmegen.
Arnhem Centraal past bij de overheidsplannen voor ruimtelijke ordening, verkeer, vervoer, milieu en economie. Bovendien sluit het plan aan bij de ontwikkelingsplannen van de Stadsregio voor het gebied tussen Arnhem en Nijmegen. Binnen de Europese economie wordt dit gebied steeds belangrijker. Station en stationspleinen vormen samen een nieuw knooppunt voor het openbaar vervoer. Van het Arnhemse station maken in 2020 110.000 reizigers per dag gebruik. Zij vinden er naast goede overstapmogelijkheden ook diensten als winkels, horeca en ontspanning. Arnhem Centraal is straks één van de 6 internationale halteplaatsen voor de hogesnelheidstrein richting Duitsland.
Rondom het station verrijzen kantoren en woningen in een spannende openbare ruimte waar innovatie en investeren in architectuur en uitstraling sleutelwoorden zijn. De omringende wegen worden sterk verbeterd en uitgebreid. Arnhem Centraal wordt kortom een aantrekkelijk gebied, met een uitgebreid aanbod aan werkgelegenheid en woongenot.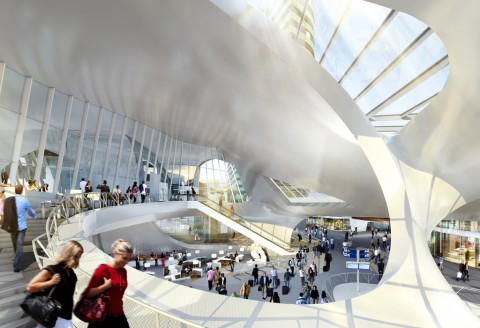 Inschrijving sluit op woensdag 5 november
Maximaal aantal plekken: 30
Eigen vervoer; na overleg wordt bepaald of dit met de auto of de trein is
Zelf veiligheidschoenen en helm meenemen
Date/Time
Date(s) - 07/11/2014
11:00 - 17:00
Location
Centraal Station Arnhem
Bookings
Bookings are closed for this event.